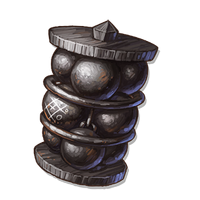 "These huge clusters of cannonballs, capable of downing a dragon in mid-flight, scatter and inflict terrible damage."
---
Summary

is the last and the most powerful shell unlocked from the Big Bertha.
---
Offensive Strategy

The Dragon Shot is very similar to Dynamite Stick but it has greater damage and has larger radius.
You can use it bot for destroying enemies groups of buildings and looting resources from banks and mints.
It is also very useful to take out enemy Clan Castle Troops.
It can be used to destroy Mortars, or at least damage them significantly due to their relatively low hitpoints.
It can be very useful if you need to just destroy a building to get a star.
| Level | Damage | Build Cost | Lab Level | Upgrade Cost | Research Time |
| --- | --- | --- | --- | --- | --- |
| 1 | 300 | 90,000 | N/A | N/A | N/A |
| 2 | 375 | 97,000 | 17 | 2,000,000, | 5 d |
| 3 | 450 | 104,000 | 18 | 4,000,000 | 7 d |
| 4 | 525 | 111,000 | 19 | 6,000,000 | 10 d |
| 5 | 600 | 118,000 | 20 | 8,000,000 | 14 d |