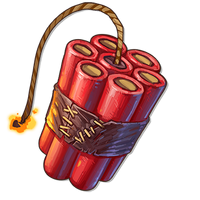 "Remember to check the length of the fuse before throwing to avoid it accidentally exploding in midair"
---
The Dynamite Stick is the second shell unlocked from the Big Bertha. 
When this shell is used a big iron ball drop from the 'sky', damaging 1 tile.
Dynamite Stick needs 2 energy points.
---
The use of  Dynamite Stick is the same as the Hammer has, but it deals splash damage, so it is a good strategy to drop it in the area of closely spaced buildings. 
Since the damage of  Dynamite Stick is not very high, you can use it to reduce health points of a group of buildings. 
It can be used to destroy Mortars, or at least damage them significantly due to their relatively low hitpoints.
It can be very useful if you need to just destroy a building to get a star.
Dynamite Stick are usually used to take out or damage Defenses with relatively low hit-points.
---
| Level | Damage | Build Cost | Lab Level | Upgrade Cost | Research Time |
| --- | --- | --- | --- | --- | --- |
| 1 | 75 | 18,000 | N/A | N/A | N/A |
| 2 | 110 | 21,000 | 2 | 125,000 | 1 d |
| 3 | 150 | 24,000 | 6 | 600,000 | 2 d |
| 4 | 200 | 27,000 | 11 | 1,200,000 | 4 d |
| 5 | 250 | 30,000 | 16 | 2,400,000 | 7 d |