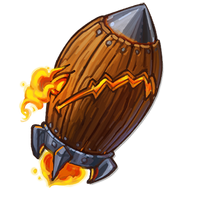 "A terror of any fortifications. This powerful aimed shot is capable of turning any building into a pile of sand in a tick."
---
Summary

The Shark is the fifth shell unlocked from the Big Bertha.
When this shell is used a huge bomb with shark jaws painted on it drop from the 'sky', dealing huge damage to a local target.
---
Offensive Strategy

The Shark doesn't deal AOE-damage, so it is better to be used against detached buildings.
It is very useful to take out an enemy's defenses such as Guns, Gun Turrets or Mortars.
It is also very useful to take out enemy Clan Castle Troops.
It can be used to destroy Mortars, or at least damage them significantly due to their relatively low hitpoints.
It can be very useful if you need to just destroy a building to get a star.
| Level | Damage | Build Cost | Lab Level | Upgrade Cost | Research Time |
| --- | --- | --- | --- | --- | --- |
| 1 | 500 | 60,000 | N/A | N/A | N/A |
| 2 | 700 | 64,000 | 9 | 1,000,000 | 5 d |
| 3 | 1000 | 68,000 | 14 | 2,000,000 | 7 d |
| 4 | 1300 | 72,000 | 15 | 3,000,000 | 10 d |
| 5 | 1700 | 78,000 | 16 | 4,000,000 | 14 d |